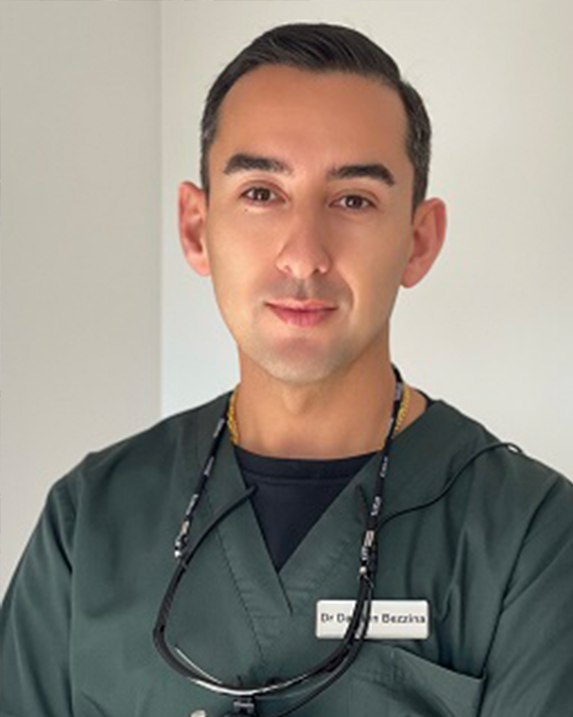 Related news
Colleagues Dr Damian Bezzina and Dr Shiromi Liyanage could not have taken more different routes through life to the Ochr
Dr Damien Bezzina
MBBS (UK), FRACGP (AUS), MRCGP (UK), MHST (AUS), DGM (LON)
Dr Bezzina completed his medical degree in the UK. He then completed a Diploma of Geriatric Medicine from the Royal College of Physicians, gained membership of the Royal College of General Practitioners and has also completed training in dermatology & skin surgery with the college.
In the UK, he practiced as a specialist doctor in General & Respiratory Medicine and also as General Practitioner. Dr Bezzina is able to draw on his broad knowledge as a specialist medical doctor to ensure he can offer up-to-date management for his patients across all aspects of medicine and mental health. He has extensive experience in dermatology and offers management for complex skin conditions, rashes, skin checks and skin cancer removal.
Dr Bezzina also offers cosmetic treatments such as anti-wrinkle injections (botulinum toxin), HA dermal fillers, micro-needling, scar treatments, cosmetic mole removal to compliment his skin management options, plus botulinum toxin injection for treatment of teeth grinding, jaw clenching, enlarged masseter muscles (jaw/face muscles), headaches.
---
Specialty interest areas
Skin checks
Skin cancer
Skin cancer removal
Cosmetics
Dermal fillers
micro-needling
Scar treatments
Cosmetic mole removal
Anti-wrinkle injections
Respiratory medicine
Dermatology
Botulinum toxin injection for treatment of teeth grinding/clenching, enlarged masseter muscles
---
Available for appointments
Available at Bruce Monday to Friday and Casey half days on Monday and Wednesday.
---